Using Secure Email at the Health System
1. Sending Secure Email

Option A. Using the confidential flag in Outlook
Open a new email
Click on the Options tab
Click on the arrow beside More Options
Under Settings; Sensitivity click on the down arrow
Select Confidential
Click Close
Please be aware that you will need to set the confidential flag each time you send an email that contains confidential or sensitive information.
Option B. Adding [secure] to the subject line (Recommended Option for use of internal communications)
Open a new email
Include [secure] in the email subject. Please be aware you must include the brackets and the word secure for the email to be encrypted.
An email that contains [secure] in subject line will be encrypted before leaving the Health System network.
For questions regarding either option, please contact the Health System Technology Services (HSTS) Helpdesk at 434-924-5334.
2. Receiving Secure Email through the Zix Portal
A. First time receiving a secure email message.
When you receive your secure email message notification for the first time you will have to go through a one-time registration process in order to create your account.
To register your account, follow these steps:
Click OPEN MESSAGE.
Enter password twice.
Click REGISTER.
Create a Username and password
Below is an example of the encrypted email you may receive:

B. How to access the ZIX Message Center if you already have a registered account.
If you already have an account click on the link provided in the email. Enter the email address contained within the Zix email you received and your password, click Sign In. If you have forgotten your password click on "Forgot your password? "Reset" button and follow the instructions.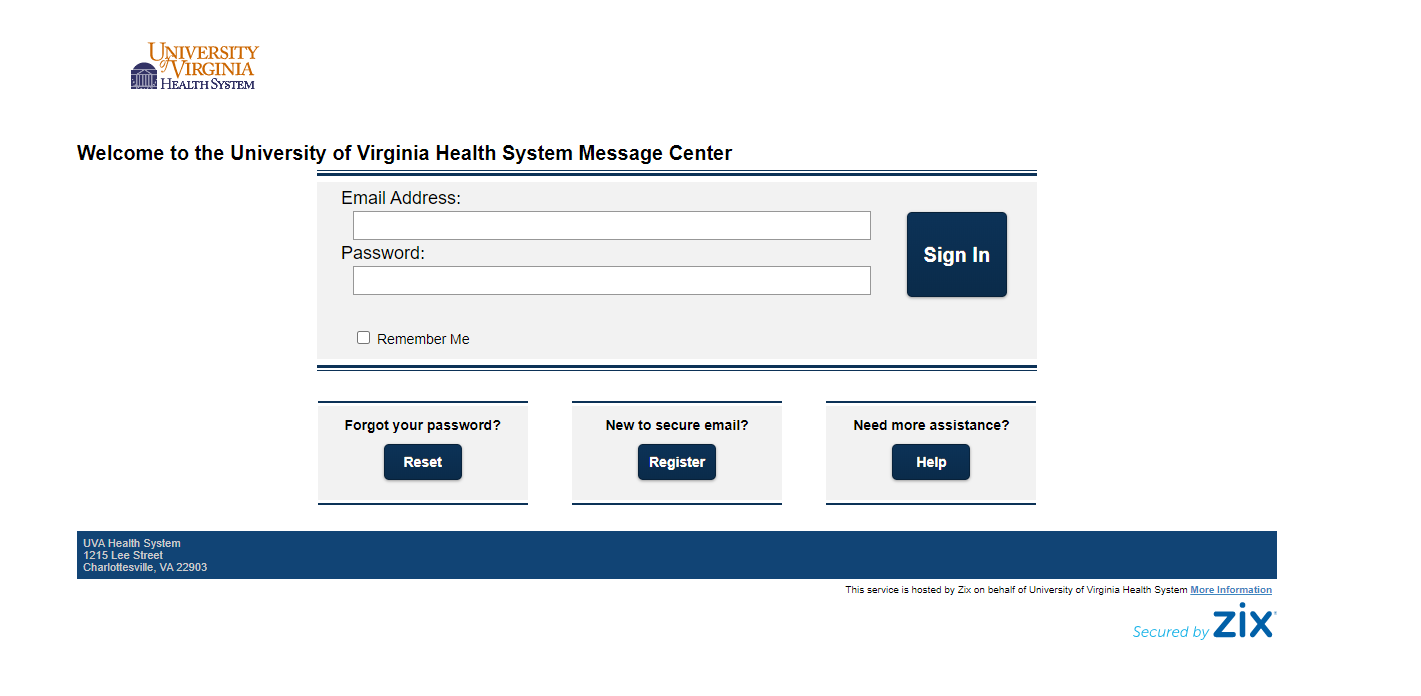 Once you have signed into Zix, you will be able to select the email you wish to open by clicking the name listed in the "From" field.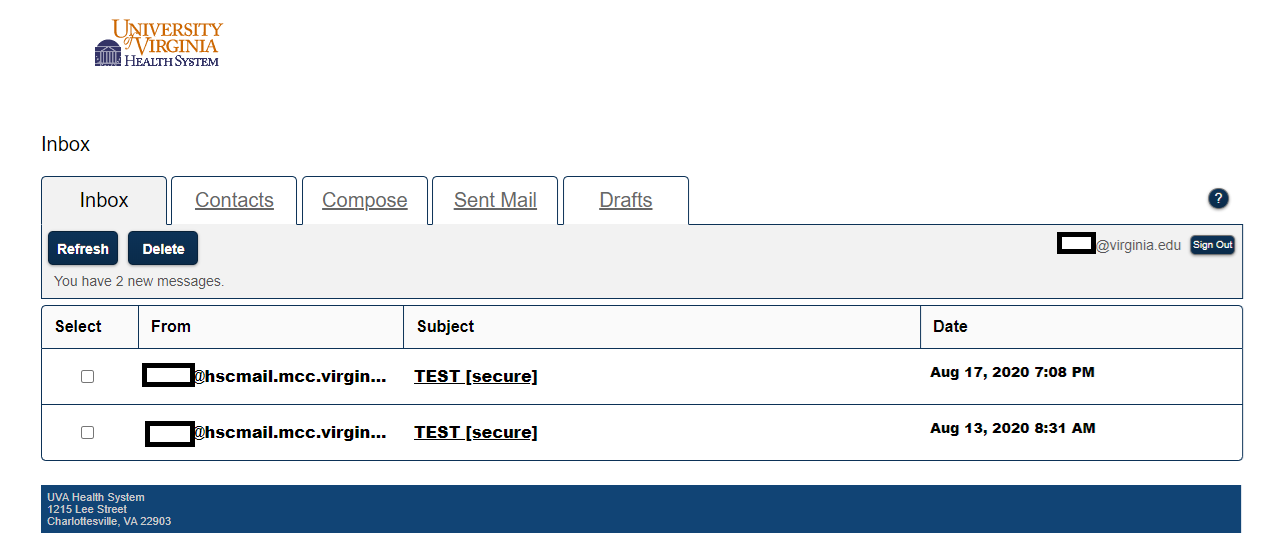 If you wish to reply to an email, open the email and click "reply".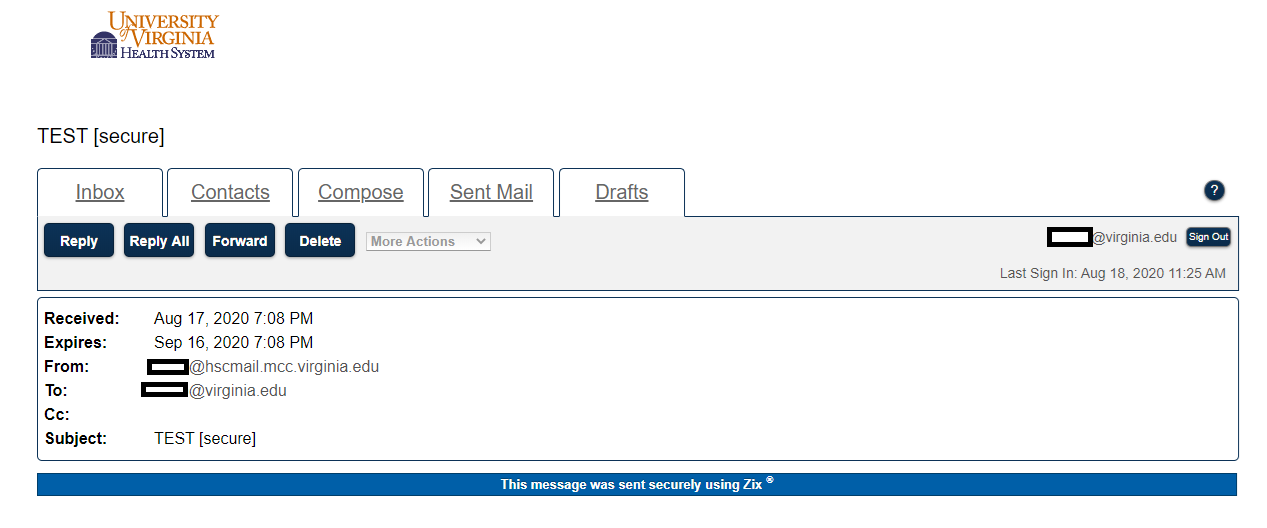 If you wish to compose a new email, click on the "compose" tab to create a new message.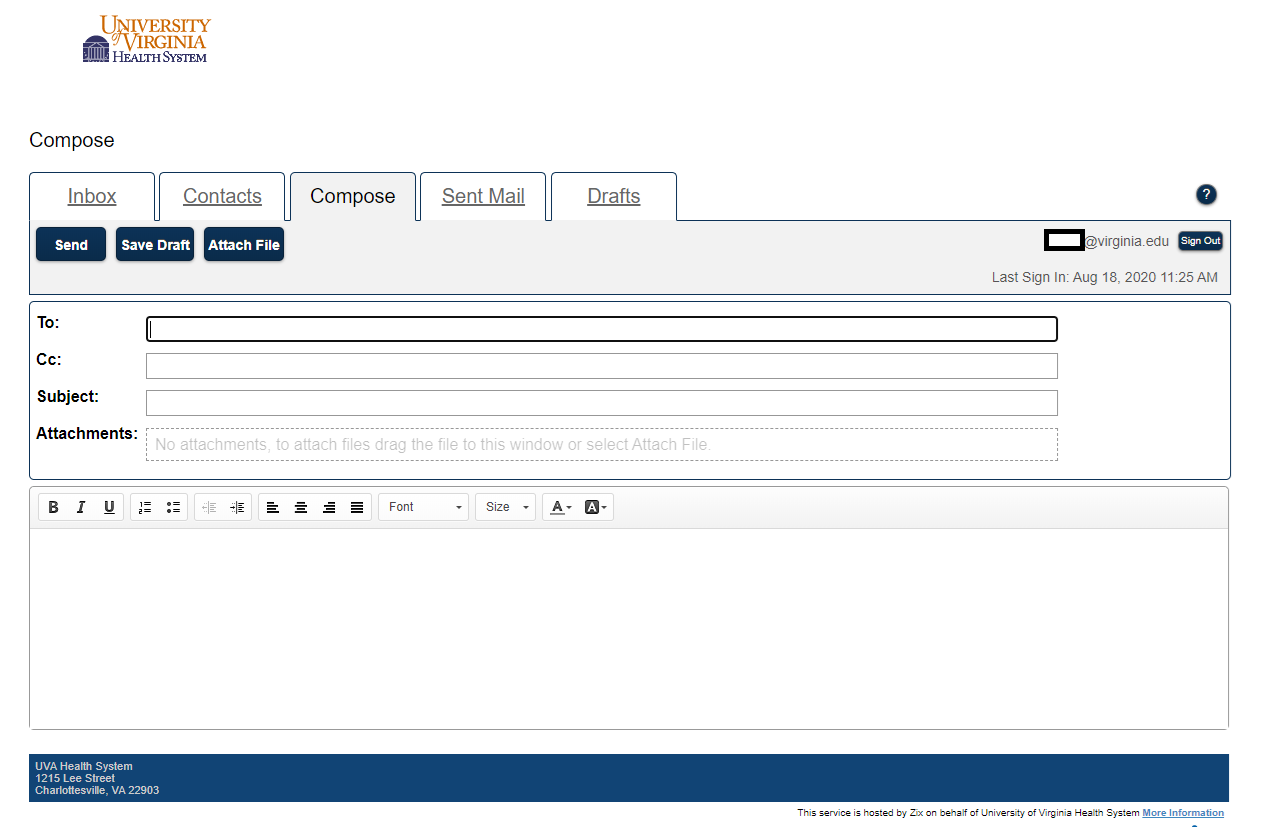 Note: Messages are only kept in the portal for 30 days. After 30 days the message will be deleted.
Help
Support: Please contact the Health System Technology Services Help Desk (24/7) support) for questions or email Information Security at mccsecurity@hscmail.mcc.virginia.edu (Monday - Friday, 7:30 am - 5:00 pm)